Makers' Muse Coding Center
What is Maker's Muse Coding Center?
These are the spaces where 21st century skills are developed in students.
Coding is delivered to students in a phased manner where students transition from Graphical coding to text based, further moving to advance courses like coding of hardware (drones, quad copters, self driving cars, humanoid robots and much more….), Artificial intelligence, Machine learning, Meta-verse, Augmented Reality, Virtual reality and much more.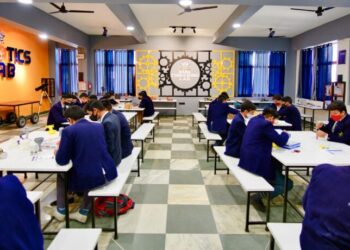 Coding Spaces for Schools
"Turning Computer Labs to Coding Spaces"
For schools, we have turned pre-built labs to amazing Coding Spaces where our trainers remotely assist & conduct live sessions for the students in a phased manner. Students transition from Graphical coding to text based coding and languages like Python, JavaScript and Lua are focused.
If you are a school and are looking for ways to implement NEP 2020, you won't find a better and cheaper option. Get in touch "Now".